The Cooking School
…un viaggio nella gastronomia italiana
…a journey through Italian gastronomy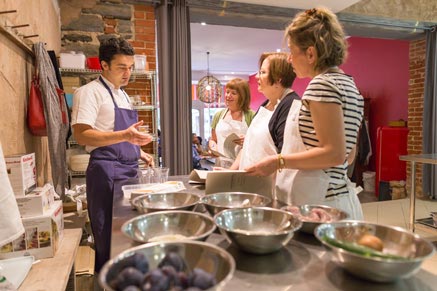 Food connects people. The act of cooking together, learning new skills in the kitchen and enjoying a glass of wine and the fruits of ones labour with friends, old and new is a powerful thing. The confluence of people, food and wine, all coming together 'stare insieme ' as a celebration of life.
Casa Carboni Italian Cooking School was born of this love for food and wine, a love of passing on the skills and technique of Italian cooking making use of the finest produce that Barossa and South Australia has to offer.
We offer a range of hands-on Italian cooking classes in our purpose built domestic kitchen where you will be immersed in regional Italian cooking. Utilising the finest ingredients from the Barossa Farmers markets, local producers, and suppliers further afield, our aim is simple: to provide a fun and relaxed learning environment and to arm you with the knowledge and techniques to replicate these sumptuous Italian dishes in your own home.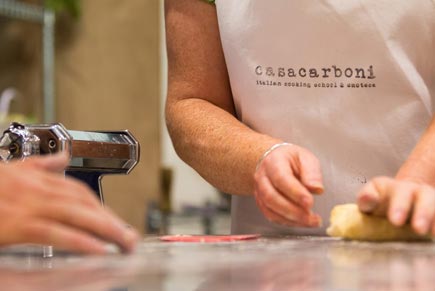 After the morning of cooking is finished you will enjoy the fruits of your labour with a shared-table meal with your classmates featuring Italian wine, laughter, stories and we are certain, some new friendships along the way.
We offer weekly classes for up to 10 guests. Larger classes are available for private bookings and the cooking school provides the perfect environment for corporate team-building events. If you would like to join one of Matteo's cooking classes, please click Book a Class.
Our open plan kitchen is located behind the Enoteca. The 2 spaces are divided by 2 steps up & long grey velvet curtains which are drawn closed when classes are being held. Thanks to our sponsors we use beautiful domestic kitchen appliances from SMEG & Global knives. Guests work together around a communal table (2 stainless steel benches joined together) to create the 4 course menu. All classes include at least one fresh pasta recipe & all guests will have the chance to mix, roll & cut their own pasta under the watchful eye of Matteo. For our regional menu classes, guests will work together with Matteo to create the other 3 recipes.
We ask guests to view the menu of the class prior to finalising bookings to ensure it is suitable. If you have any dietary requirements please contact us prior to booking. Although our calendar classes are not suitable for vegan diets, we can however offer private classes on request with a menu tailored to your groups needs.
To assist with your stay please view our accommodation & dining recommendations for the Barossa click here.