Enoteca / Wine Bar
The Casa Carboni Enoteca/Wine Bar is a gastronomic hub for the enjoyment of Italian food and wines from Europe in the Barossa's prettiest town, Angaston.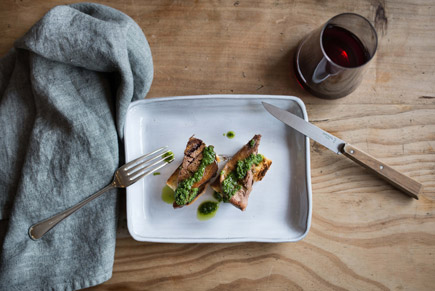 Dining
All Day
Open from Thursday to Sunday, it is here that you can enjoy illy coffee, French teas & tisanes, house made Italian sweet treats including Matteo's legendary torrone morbido, aka soft nougat which is made weekly and has won many fans amongst local Barossans.
Breakfast
Our breakfast bruschetta is offered from 9am till 12pm with Matteo's toasted sourdough drizzled with our Barossa EVOO, Schultz ham, market tomatoes and fresh goats curd from our neighbour Barossa Cheese Company.
Lunch
Lunch is served from Thursday to Saturday, a limited daily menu including Matteo's fresh pasta ($25) based around what produce is in season and tasting delicious. A range of hard to find European wines are available for purchase by the glass & bottle. Bookings are recommended.
Sunday Italian Long Lunch
Sunday lunch takes place from 12.30pm with a menu based on local produce direct from the farm gate & the Barossa Farmers Market. Matteo offers either a three or four course chef's choice menu. Bookings recommended.
Three course
Entrée, fresh pasta, dessert & coffee – $55
Four course
Entrée, fresh pasta, risotto, dessert & coffee – $65
Friday Night Wine Bar
The Friday night wine bar runs from 6 – 10pm and features a flight of 4 great wines available by the glass. Each week we choose a vinous theme, whether it be producer, region, variety or country and you can try the selections by the glass or share a bottle from our great wine list with friends. Matteo offers an Italian style tapas menu and a daily fresh pasta which matches the wines on offer perfectly.
Chef's Table Dinners
Casa Carboni also offers a beautiful modern Italian feast created by Matteo according to market fresh produce and the season. The set tasting menu includes canapé, antipasto, fresh pasta, risotto & dessert. Available for groups of 10 or more. Contact us for bookings or more information.
Meetings, private functions & events
Casa Carboni is a great place for a business meeting, business lunch, private dinner party or event.
Contact us for further information & bookings.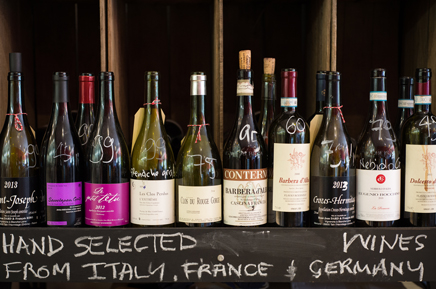 Wines
The wine list features Matteo and Fiona's selection of European wines, predominantly Italian and French with some German Rieslings and Spanish wines appearing now and then. The list is ever changing, most of the wines are  sourced from their annual trip to Europe, while others are imported by the like-minded small importers such as Andrew Guard, Eurocentric, Lario and Addley Clark. They are particular about: traditional, sustainable & natural winemaking practices, indigenous varieties that are suited to the regions where they are grown and food friendly wines… wines are transported to Casa Carboni in refrigerated transport (outside of the winter months).
View the current wine list
Pantry
You will also find a range of Fiona and Matteo's favourite Italian essential pantry items from artisan producers including Riso Acquerello aged Carnaroli rice, Pasta Mancini dried pasta, Mulino Marino organic polenta, Leila gluten free pasta, Campisi Italian anchovies in EVOO, Extra Virgin Olive Oils, Aceto Balsamico di Modena from Cavedoni. For those with a sweet tooth we have a selection of French salted butter caramels, chocolates from Monsieur Truffe in Melbourne, and cocoa from Valrhona in France.
Homewares
ROGASKA GLASSWARE
Beautiful mouth blown and hand crafted wine glasses and tumblers from ROGASKA in Slovenia, imported exclusively by Casa Carboni. Dishwasher safe and very resistant.
OPINEL KNIVES
An extensive range of OPINEL knives made in Savoie, France since 1890. Table knives, kitchen knives, traditional outdoor folding knives. Strong INOX blades, dishwasher safe.
TISSAGE DE LUZ
We are the exclusive importer and retailer of Tissage de Luz. We stock an extensive range of their bags, table cloths and napkins.
ARTE PURA LINEN
Beautiful natural Italian linen tablecloths, runners and napkins.
REISS ENAMELWARE
Austrian enamelware.
Click edit button to change this text.