Pantry & Homewares
At the Enoteca you will also find a range of Fiona and Matteo's favourite
essential pantry items and homewares from artisan producers.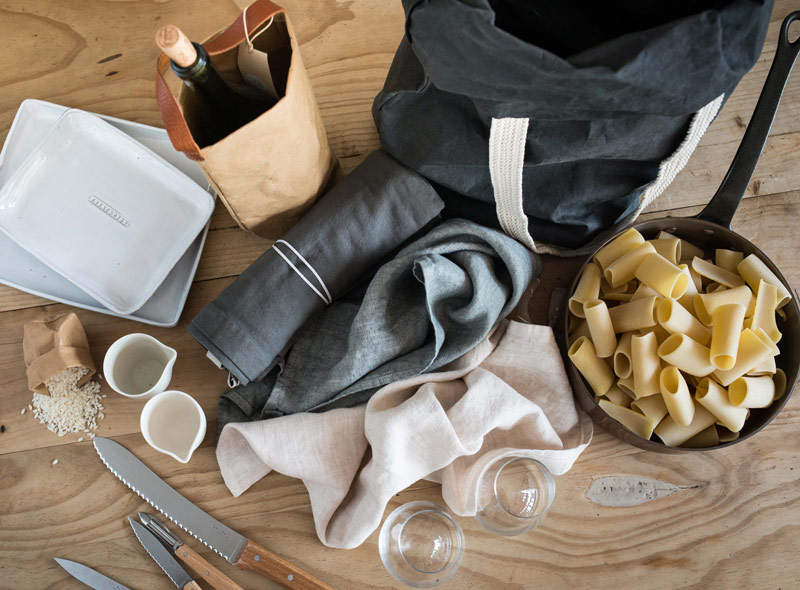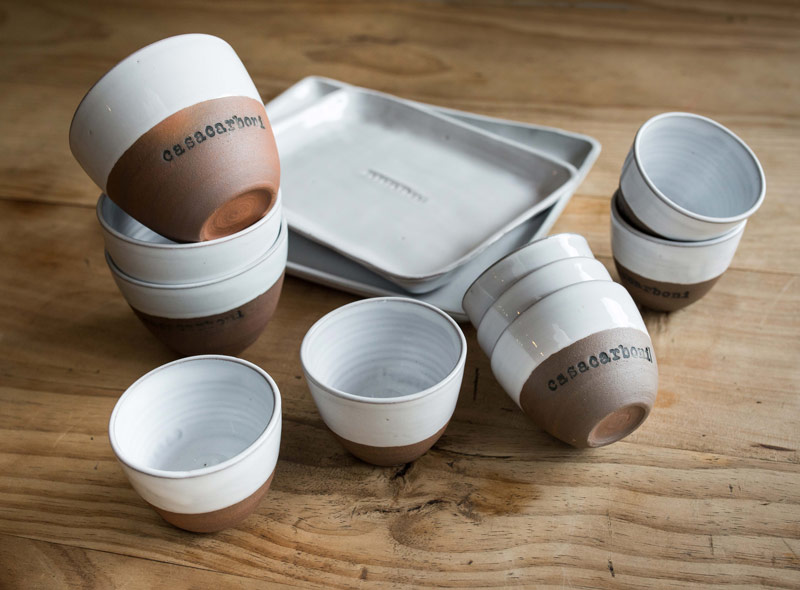 Pantry Items
Fiona and Matteo's favourite essential pantry items include Riso Acquerello aged Carnaroli rice from Piemonte, Pasta Mancini dried pasta from Le Marche, Italian organic pasta sauces and preserved tomatoes, Balsamic Vinegars from Modena, cheese condiments from Le Tamerici in Mantova and more. For those with a sweet tooth we have a selection of French salted butter caramels, chocolates from Monsieur Truffe in Melbourne, and cocoa & cooking chocolate from Valrhona in France, not forgetting Matteo's hand made nougat!
Casa Carboni Stoneware
Inspired by our travels in e have created a range of locally made stoneware plates, bowls and terracotta cups stamped with our Casa Carboni logo and dipped in a white glaze. As all are hand made they unique pieces and can have some size and shape variations.
Arte Pura
Emilia Romagna region, Italy
Timeless pure Italian linens made to order for Casa Carboni in Carpi (from the region of Emilia Romagna). We stock a range of their beautiful tablecloths, table runners & napkins in earthy tones. The dyes are natural and the linen has a rustic look and feel. These linens will bring a lifetime of beauty and joy to your home.
We also offer a bespoke range made to order from the Arte Pura catalogue by designer Daniela Dallavalle. Bed linens, curtains, tablecloths, cushions… with many options of stunning colours, cotton laces and embroidery to choose from.
Imported exclusively by Casa Carboni in Australia
OPINEL knives
Savoie region, French Alps
Invented by Joseph Opinel in 1890 at the age of 18, who against his father's wishes (also a forger), designed and developed a small pocket knife aimed at farmers and local villagers which is now known as the #08.
The Opinel #08 folding knife is considered a design icon throughout the world. Unchanged for over a century, it is recognized by the "Victoria and Albert Museum" being among the 100 best designs. The list includes the Porsche 911 and the Rolex watch.
Our Opinel range includes stainless steel pocket knives in various sizes, garden knives & tools, kitchen knives and table knives… carbon blades are available to order.
Tissage de Luz
Basque region, France
Created by Jean-Baptiste Gouze in 1908 this family owned cotton fabric producer was one of the first to create mechanically woven striped Basque fabrics and still remains family owned by his great grandson, Jerome Fanfare and is certified "French Origin Guaranteed".
Imported exclusively by Casa Carboni in Australia
tissagedeluz.com